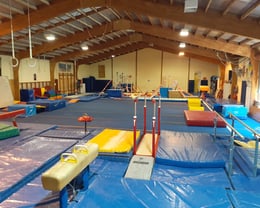 Gymnastics Nelson offers the perfect venue for children's birthday parties. We will provide fun physical activities and games hosted by a fully-qualified Gymnastics instructor. Birthday parties are for ages 3 years and above. If you have guests between the ages of 3-5 years they must have a supervising adult on the floor with them to assist at all times. At least one parent must stay in attendance for the duration of the party.
Physical activities and games include:
Jumping into our foam pits
Bouncing on our trampoline
Parachute Games
Dodgeball
Gym-tag
Free time
Party time slots (Sunday only):
11.30am to 1pm
1.30pm to 3pm
All bookings must be made at least 7 days in advance
Food and Kitchen – If you are planning on bringing food, all food and cake needs to be eaten either on the bench seats in our spectator area or outside. No food or drink can be brought onto the Gym floor We have a small kitchen area with a fridge/freezer, microwave and electric jug. You will need to bring your own cutlery and tea towels. All rubbish needs to be taken home with you and not left at the Gym. So please bring rubbish bags.
Parking – Please park in either of the following streets, Tipahi Street, Vanguard Street or Tukuka Street. The Nelson Intermediate car park is not available. If you are parking in Tukuka Street please use the pedestrian gate and walk through the school car park.
What to wear – Please wear athletic clothing suitable for fun physical activities. No jeans, buckles, skirts, dresses, footed tights, shoes or socks. All long hair needs to be tied up. Please ensure attendees are aware of this.
When you can enter the facility – The facility will be open 15 minutes prior to the commencement of the party. We ask that you leave within 10 minutes of your allocated time, as we may have another party or group after you. Failure to do so may result in being charged for extra time ($50 per extra 15 minutes)
Cost:
Up to 12 children*: $170
Between 13-18 children*: $220
*Children attending includes all children invited to the party, plus any friends, siblings or cousins who are 3 years and over, who will also be there on the day and go on the Gym floor.
A non-refundable deposit of $50 is required to be paid within 1 day of your booking confirmation. Full payment and confirmation of numbers is required 1 week prior to your party.
Refunds – A 50% refund is available for cancellations 1 week or more prior to the party date. There is no refund for parties cancelled less than 1 week prior to the party.