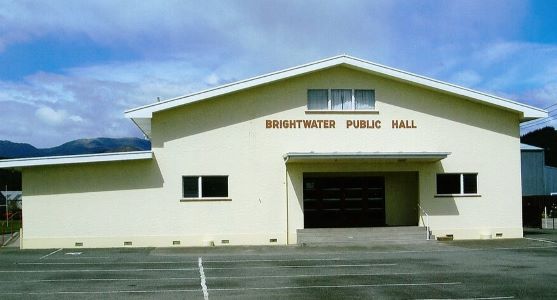 Brightwater Recreation Reserve is located in the Brightwater urban area between Lord Rutherford Road, Ellis Street, and Charlotte Lane.
A large part of the reserve comprises playing fields, the Brightwater Public Hall, and sealed car parks.  Also located on the reserve are the Wanderers Rugby Football Club rooms, three fenced tennis courts, squash courts, the Brightwater Scout and Guide Hall, Plunket Rooms, a kindergarten, and a children's play area.  The main entrance to the reserve is on Lord Rutherford Road beside the public hall, where memorial gates commemorate lives lost in the two World Wars.  A concrete wall and plantings of native species separate the reserve from Lord Rutherford Road.  A large sealed car park surrounds the hall, and public toilets are located at the rear of the hall.  This car park caters for use of the hall, squash courts, tennis courts and playing fields.  The northeastern boundary of the reserve, on Ellis Street, is fenced and planted with small trees.  Concrete gateposts at this pedestrian entrance to the reserve are inscribed 'Brightwater Centennial Park; 1840 – 1940'.  The tennis courts, Skatepark, children's play equipment, and Brightwater Plunket Rooms are located on this part of the reserve.  Charlotte Lane, at the southeastern side of the reserve, also provides vehicle access to the reserve.  The Brightwater Kindergarten, Volleyball Courts, Brightwater Scout and Guide Hall, and a car park are located at this side of the reserve.
Features:
Picnic Areas

Sports Fields

Public Hall

Tennis Court

Sand Volleyball Courts

Squash
Management – The Brightwater Recreation Reserve Management Committee assists with the management of the reserve.  Reserve users pay an annual or monthly rental for using the reserve.  The Brightwater Recreation Reserve is an important and well-used recreation facility catering for a wide range of activities.
Hall Hire
– Brightwater Hall on Domain
– Memorial Rooms (Old Library) on Domain
– Pavilion Lord Rutherford Park